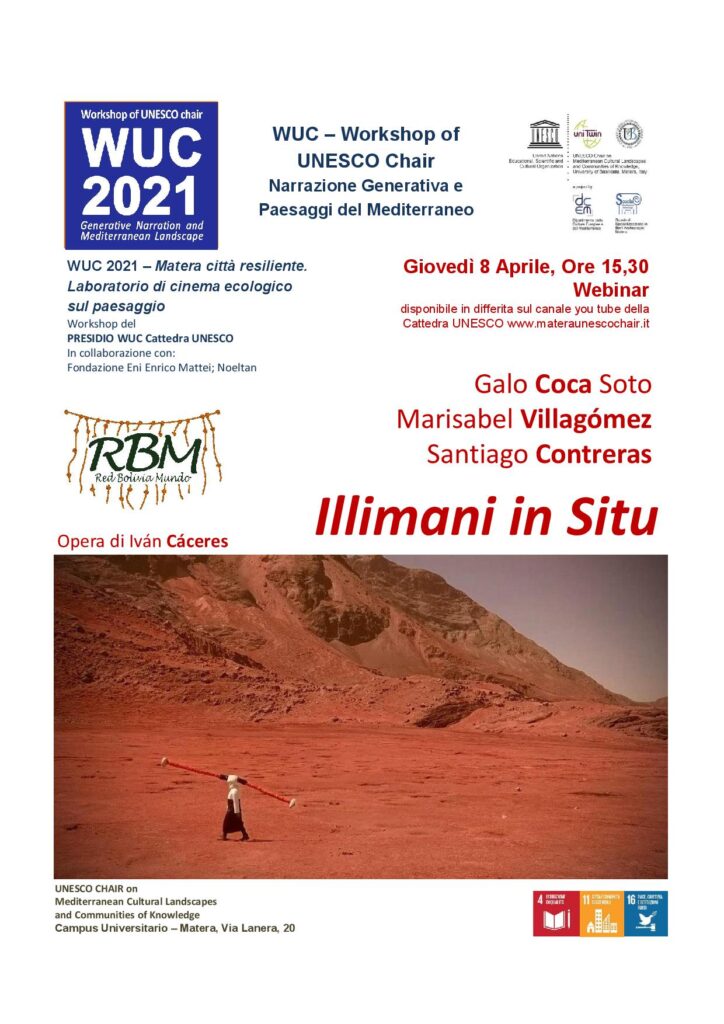 As part of the WUC – Workshop of the UNESCO Chair of the University of Basilicata, the seminar "Illimani in situ" tells about the artistic project on the Andean mountain Illimani, as a new narrative strategy for the enhancement of a strongly identifying landscape. Three project 's protagonists talk about it: Galo Coca, Marisabel Villagomez and Santiago Contreras.
In Bolivia, few initiatives have challenged the conventional vision of a cultural myth as did "Illimani in situ", a long-term project, concluded with a group exhibition in the city of La Paz. With an unprecedented dynamic, most of the 14 artists included in the project went to the Andean mountain Illimani, a cultural reference point, to create works in situ far from the typical urban point of view, the one that tamed the mountain. It was an opportunity to break with the traditional representation, the conventional gaze, which persists in local painting and photography.
The "Illimani In situ" project, proposed by the Bolivian historian and curator Marisabel Villagómez at the beginning of 2019, proposes several premises:
the physical approach to the Andean mountains, defined as distant and romanticized, with the intention of making the break;;
the assumption of the notion of "cultural landscape" to refer to Illimani, in particular the path of water, its social use and its cultural significance, an intrinsic characteristic of the history of the mountains;
dialogue with the Aymara culture and worldview.
In this sense, Villagómez clarifies that his project is located "far from advertising efforts, or from the intentions of promoting a country in the traditional biennial markets". Many of the concepts developed by the artists involved in the project have a profound dialogue with these premises. There are, for example, the notions of re-appropriated Aymara rituals (Maximiliano Siñani, Georgina Santos and Adriana Bravo) or of the "economy of care". The latter, contrary to the current extraction system that affects Illimani (mainly mining), translates into reforestation experiments (María Fernanda Sandóval), deep listening to the water and its path (ozZo Ukumari), or in some references to the recent Bolivian forest fires (Santiago Contreras Soux). The project is characterized by three main moments:
curatorial planning and monitoring during the year 2019;
mountain expeditions: a few hours to travel the territory with technological tools that have made it possible to document performances, ephemeral sculptures and installations, images, rituals and sounds;
the exhibition of the artworks produced by these expeditions in the urban context (La Paz).